Bonding is a popular method to enhance the aesthetics of your smile. Bonding can be used to correct cracks or gaps in teeth, as a filling after a cavity has been removed, or to cover up stains or discolored teeth.
Composite bonding offers a simple method of restoring your smile to its original beauty. It is one of the most conservative, versatile, and affordable ways to aesthetically restore a multitude of dental imperfections.
How It Works
A composite resin is used on the affected tooth or teeth. It is molded and sculpted over an adhesive gel that is placed on the tooth. After the resin has been applied, a LED light is used to harden the resin, which is then polished to give you a fresh, new smile. Bonding is an obvious improvement over unsightly silver amalgam fillings and chipped or discolored teeth.
Dr. Grafman uses the advancements in dental technology that result in bonding lasting for over 10 years. It is a safe, affordable, and attractive solution for many dental problems.
Repair Therapy for What Life Takes Away From Your Smile!
Actual Patient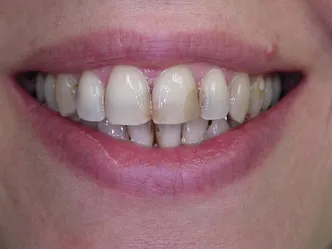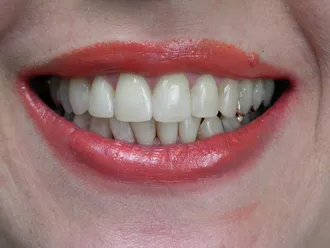 BEFORE & AFTER
Facts on Cosmetic Bonding
●
Treatment Time
: One visit ●
● Results: Beautiful, natural-looking teeth ●
● Upkeep: Good daily hygiene habits ●
Advantages
● Reshape crooked or misshapen teeth ●
● Correct or close gaps and spaces between your teeth ●
● Improve or change the color of permanently stained or discolored teeth ●
● May be reversible ●
● Can be used to build up worn teeth ●
● An inexpensive alternative to Veneers, which will look beautiful and feel like natural teeth ●