Invisalign is a new system of straightening teeth without the use of conventional braces and is recommended for orthodontic situations with mild to moderate spacing or crowding. They are virtually undetectable, easy to use, and comfortable to wear.
Using advanced 3D computer imaging technology to stimulate tooth movement, Dr. Grafman uses a series of clear,custom-made aligners that gradually move your teeth into the desired position.You wear each aligner for about two weeks, moving from one set to the next,until your new smile emerges.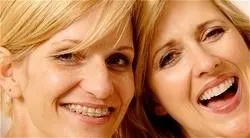 Treatment Time
The treatment time is about the same as braces, but it is a lot more convenient for the everyday hectic life of a New Yorker.
Invisalign is the solution for patients who did not want to straighten their teeth because they did not want a mouth full of metal. For years, our patients have been refusing orthodontic treatment because their careers involved a lot of speaking and entertaining.
As professionals who needed to maintain a certain appearance and because wearing braces was not considered the best beauty enhancement to meet the someone special, most patients held off orthodontic treatment. Invisalign technology is the incredible solution to all the reasons you have for not straightening your teeth.
Benefits of Invisalign
● Nearly invisible –You can straighten your teeth without anyone having to know
● Removable –You can eat and drink what you want
● Better Oral Hygiene –You can brush and floss normally to maintain healthy gums and teeth
● Comfortable –There are no wires, metal, or brackets to cause mouth abrasion
Incredible Invisalign Technology Can Correct
● Crooked upper and/or lower teeth
● Overlapping teeth
● Close spaces and diastemas
● Correct shifting of teeth previously treated with braces
● Correct an overbite – when teeth stick out too much like buck teeth
● Correct a deep bite – when teeth look too long
● Improve or correct a gummy smile
● Improve your bite and how well your teeth come together
● Can be used by Dr. Grafman who specializes in correcting bites to alleviate symptoms of TMJ joint
discomfort
Beyond these corrections, Invisalign can solve many problems and can create a beautifully shaped and aligned smile.