As we age, we start to see changes we may not like happening in our mouth. If you are not happy with your smile and feel that it is preventing you from looking as young as you feel, then we can help you get the smile you want.
If you see these changes happen to your smile over time, it could cause it to look aged.
● The #1 factor that contributes to an aging smile goes without saying –
"The color of the teeth."Nothing ages a smile like graying or yellowing teeth. ●
● The second factor is the length of your upper front teeth. ●
As we age, we may slowly wear down our front teeth. As that happens, less and less of your top teeth show when you speak or smile which creates an aged appearance.
One way to quickly check how much your teeth have worn down is to look at a picture of yourself in your twenties and compare it to the amount of tooth showing now. By seeing this visual comparison, you can identify how much your front teeth have worn down.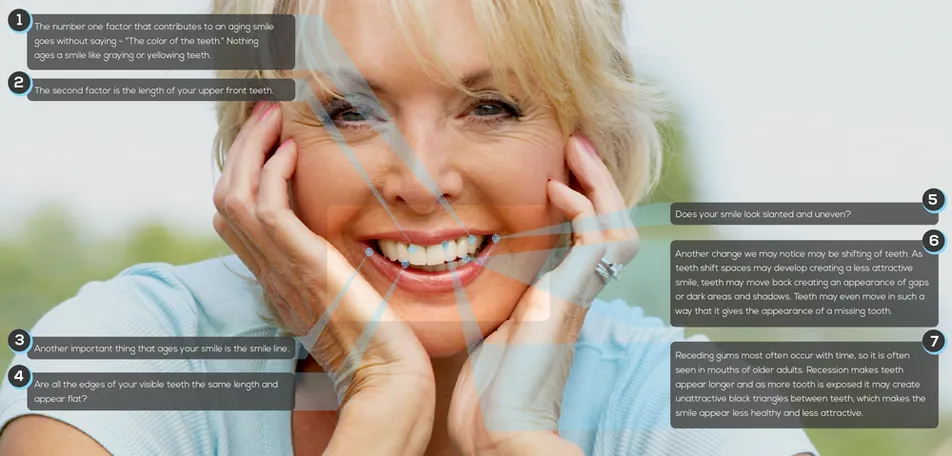 ● Your smile IS the smile line! ●
● Are all the edges of your visible teeth the same length and appear flat? Does your smile look slanted and uneven? ●
● Another change we may notice may be shifting of teeth. As teeth shift, spaces may develop creating a less attractive smile as the teeth may move back creating an appearance of gaps or dark areas and shadows. Teeth may even move in such a way that it gives the appearance of a missing tooth. ●
● Receding gums most often occur with time, so it is often seen in mouths of older adults. Recession makes teeth appear longer and as more tooth is exposed, it may create unattractive black triangles between teeth, which makes the smile appear less healthy and less attractive. ●
If you see any of these issues occurring as you look at your photos, then Dr. Grafman can help take years off of your appearance
by creating a more balanced, younger looking smile.
Sleep as Medicine: The Anti-Aging Effect
● Getting a GOOD NIGHT SLEEP promises to work magic, except no one tells you how to actually achieve it. ●
● Quality of sleep has the potential to prevent and ward off illnesses and diseases and help to maintain a clear, calm mind. ●
The Advantages of Good Quality Sleep
● LOOK LESS TIRED ●
● IMPROVE APPEARANCE OF YOUR SKIN ●
● MORE ENERGY ●
● WEIGHT LOSS ●
● MANAGE HEALTH CONDITIONS ●
● DECREASE ANXIETY ●
● SHARPER MIND ●